This is a spicy, hearty sandwich that will please those who love buffalo chicken wings. This recipe is perfect for those days spent watching football. I like to top these with blue cheese or ranch dressing.
"Please let us know what you think if you ever try it at home , and don't forget to share it with your friends and family and also on social networks, this means a lot to us"
These are some of the reviews from people who tried The Slow Cooker Buffalo Chicken Sandwiches recipe :
Tracee :
These were really good, DH loved them. Substituted regular ranch for dry mix and it was still really good.
Michelle :
Okay, let me say that I don't think just giving this 5 stars will express how much my fiance loved these sandwiches. Direct quotes from him: "This is the best thing to ever come out of a crockpot in the history of cooking", "I would eat my way out of a bathtub of this". LOL! Seriously, if we weren't already engaged, this stuff would have made him propose on the spot. 🙂 The only change I made was to shred the chicken after 5 hours and then put it back into the crockpot to let it soak up all the sauce for another 2 hours. I served the meat on toasted Kaiser rolls with melted pepperjack cheese. Thank you very much, needless to say this will be a VERY regularly made recipe in our house! 🙂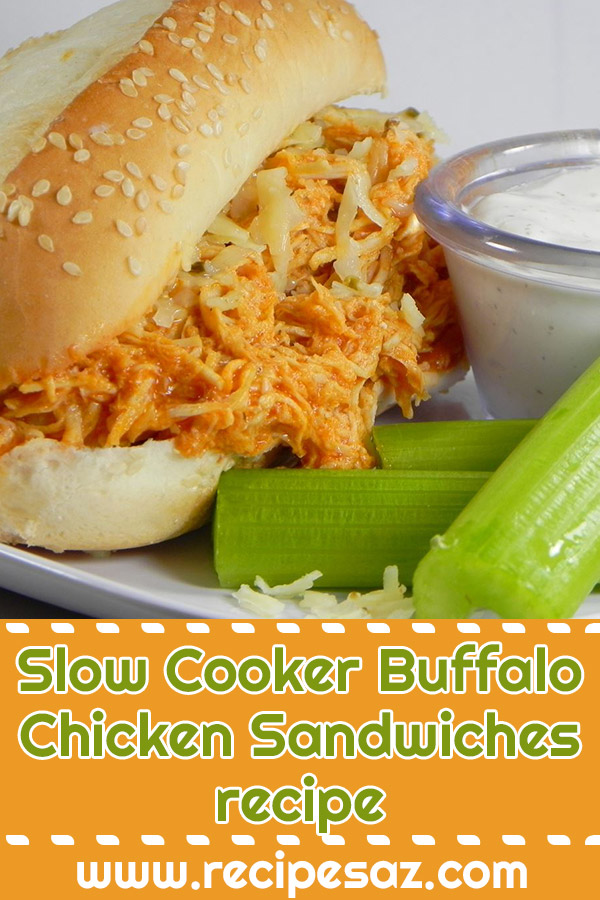 Ingredients
4 skinless, boneless chicken breast halves
1 (17.5 fluid ounce) bottle buffalo wing sauce, divided
1/2 (1 ounce) package dry ranch salad dressing mix
2 tablespoons butter
6 hoagie rolls, split lengthwise
Directions
Place the chicken breasts into a slow cooker, and pour in 3/4 of the wing sauce and the ranch dressing mix. Cover, and cook on Low for 6 to 7 hours.
Once the chicken has cooked, add the butter, and shred the meat finely with two forks. Pile the meat onto the hoagie rolls, and splash with the remaining buffalo wing sauce to serve.
Source : All Recipes