These aren't traditional egg rolls! Small flour tortillas are stuffed with an exciting blend of Southwestern-style ingredients, then deep fried until golden brown.
"Please let us know what you think if you ever try it at home , and don't forget to share it with your friends and family and also on social networks, this means a lot to us"
These are some of the reviews from people who tried The Zucchini Bars with Spice Frosting recipe :
Crystal :
I followed this recipe exactly, except I baked these at 450 degrees for 10 minutes instead of frying, and skipped the freezing part. I have also halved the cheese and doubled the spinach on some batches to make them a little healthier. Very good this way too. At others' suggestion, I served this with "Amy's Cilantro Cream Sauce" from this site. These were excellent and healthier than the original recipe. Very yummy!! Next time, I plan to add avocado to the rolls right before rolling. I think they'll be even better. 🙂
Stacy :
Honestly, I'm giving 5 stars based on the filling alone. Good Gravy! This stuff's YUMMY! I tripled the recipe with no changes other than I sprinkled my chicken breasts with Adobo before cooking them. Rolled in egg roll wrappers, sprayed with non-stick spray & baked @ 375. I just couldn't get the wrapper "crispy" like I thought it should be. Now granted, the original recipe called for tortillas & deep frying, so I'm not taking anything away for that. BUT I made quesadillas with the extra filling – and Man Oh Man!! Seriously good eatin'! Next time, I'll just go the quesadilla route & keep the filling the same.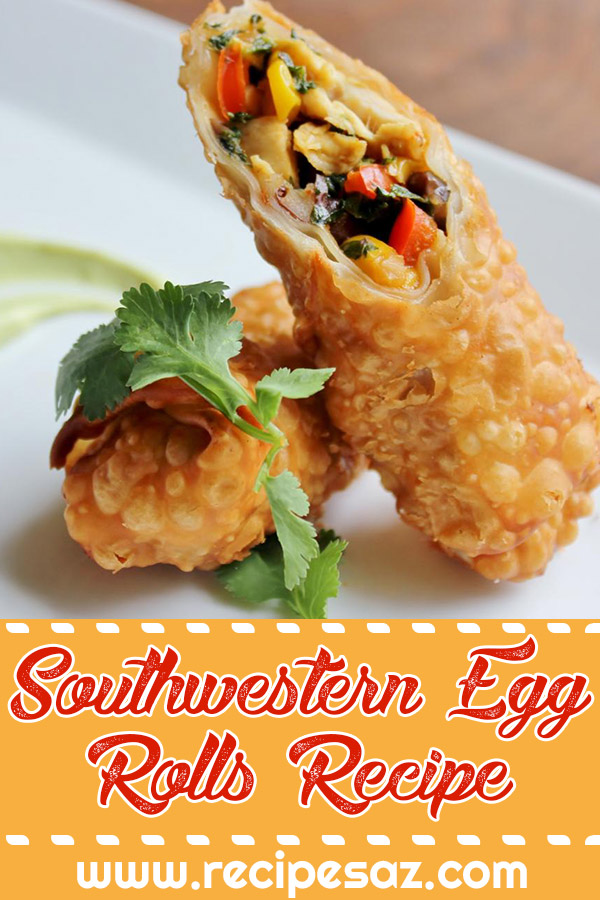 Ingredients
2 tablespoons vegetable oil
1 skinless, boneless chicken breast half
2 tablespoons minced green onion
2 tablespoons minced red bell pepper
1/3 cup frozen corn kernels
1/4 cup black beans, rinsed and drained
2 tablespoons frozen chopped spinach, thawed and drained
2 tablespoons diced jalapeno peppers
1/2 tablespoon minced fresh parsley
1/2 teaspoon ground cumin
1/2 teaspoon chili powder
1/3 teaspoon salt
1 pinch ground cayenne pepper
3/4 cup shredded Monterey Jack cheese
5 (6 inch) flour tortillas
1 quart oil for deep frying
Directions
Rub 1 tablespoon vegetable oil over chicken breast. In a medium saucepan over medium heat, cook chicken approximately 5 minutes per side, until meat is no longer pink and juices run clear. Remove from heat and set aside.
Heat remaining 1 tablespoon vegetable oil in a medium saucepan over medium heat. Stir in green onion and red pepper. Cook and stir 5 minutes, until tender.
Dice chicken and mix into the pan with onion and red pepper. Mix in corn, black beans, spinach, jalapeno peppers, parsley, cumin, chili powder, salt and cayenne pepper. Cook and stir 5 minutes, until well blended and tender. Remove from heat and stir in Monterey Jack cheese so that it melts.
Wrap tortillas with a clean, lightly moist cloth. Microwave on high approximately 1 minute, or until hot and pliable.
Spoon even amounts of the mixture into each tortilla. Fold ends of tortillas, then roll tightly around mixture. Secure with toothpicks. Arrange in a medium dish, cover with plastic, and place in the freezer. Freeze at least 4 hours.
In a large, deep skillet, heat oil for deep frying to 375 degrees F (190 degrees C). Deep fry frozen, stuffed tortillas 10 minutes each, or until dark golden brown. Drain on paper towels before serving.
Source : All Recipes