This is a quick and easy main dish. My kids don't even like cabbage, but they love this. I usually try to serve it with green beans, new potatoes, corn, and a pan of corn bread. They eat over half the pan every time. Also, the longer it stands the better it tastes.
"Please let us know what you think if you ever try it at home , and don't forget to share it with your friends and family and also on social networks, this means a lot to us"
These are some of the reviews from people who tried the Unstuffed Cabbage Roll Recipe :
Diana :
Definitely a keeper! I liked finding a recipe that is quick, simple, tasty and nourishing. I feel like my body is saying thank you while I eat it. The only change I made is cooking it a little longer so the cabbage is softer. I have passed this recipe on to several friends and family and they like it also.
Lyndell :
My husband and i loved it just as it was. I like a mild spice but think Delmonte jalapeno diced tomatoes (if I could get them where i live) would add a great extra zing. It is not too spicy, just right.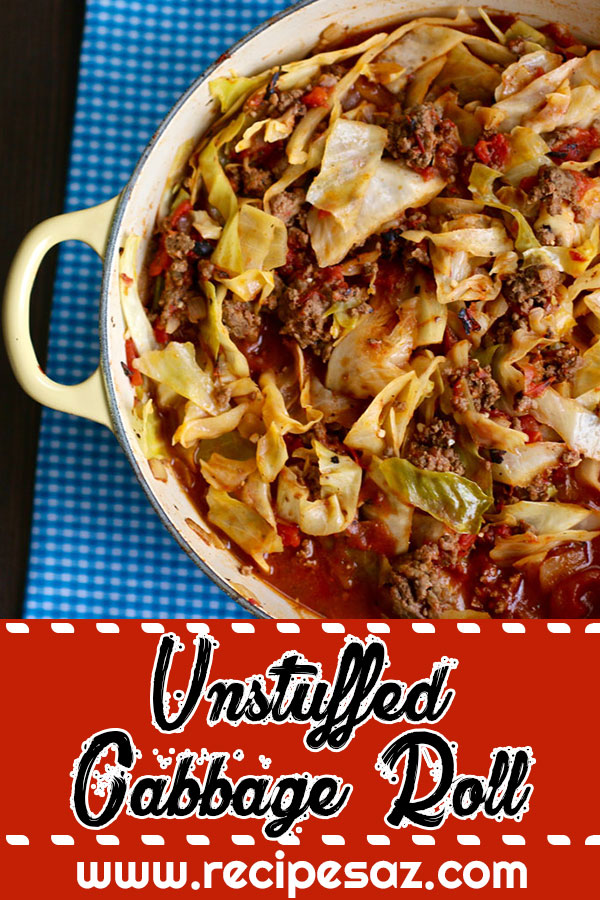 Ingredients
2 pounds ground beef
1 large onion, chopped
1 small head cabbage, chopped
2 (14.5 ounce) cans diced tomatoes
1 (8 ounce) can tomato sauce
1/2 cup water
2 cloves garlic, minced
2 teaspoons salt
1 teaspoon ground black pepper
Directions
Heat a Dutch oven or large skillet over medium-high heat. Cook and stir beef and onion in the hot Dutch oven until browned and crumbly, 5 to 7 minutes; drain and discard grease. Add cabbage, tomatoes, tomato sauce, water, garlic, salt, and pepper and bring to a boil. Cover Dutch oven, reduce heat, and simmer until cabbage is tender, about 30 minutes.
Source : All Recipes