Zucchini bars are a family favorite!
"Please let us know what you think if you ever try it at home , and don't forget to share it with your friends and family and also on social networks, this means a lot to us"
These are some of the reviews from people who tried The Zucchini Bars with Spice Frosting recipe :
Paula :
Wasn't sure I wanted to use cloves in frosting, but stuck to recipe. I'm happy I did because this cake is amazing. I will be making it again and again. Thank you for this delicious recipe.
Kathy :
Very good & moist! I added a little pumpkin spice for extra ump. Maybe next time I might add a grated carrot or some raisins…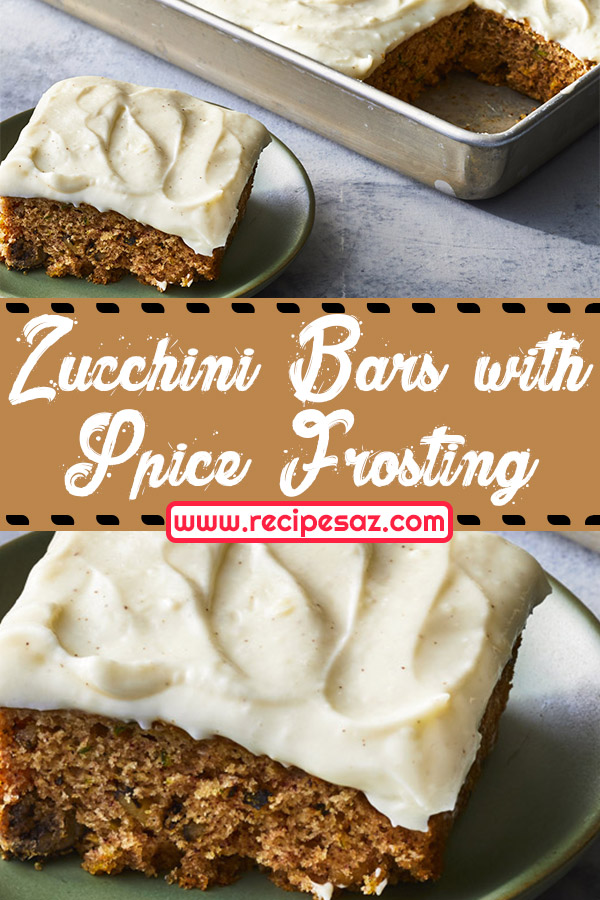 Ingredients
1 1/3 cups packed brown sugar
1/2 cup butter, softened
2 eggs
1 teaspoon vanilla extract
2 cups all-purpose flour
2 teaspoons baking soda
1 teaspoon ground cinnamon
1/2 teaspoon ground cloves
2 cups shredded zucchini
1 cup chopped walnuts
Spice Frosting:
1 (16 ounce) package cream cheese frosting
1/4 teaspoon ground cloves
Directions
Preheat the oven to 350 degrees F (175 degrees C). Butter a 9×13-inch baking pan.
Mix brown sugar, butter, eggs, and vanilla extract together in a bowl. Stir in flour, baking soda, cinnamon, and cloves. Stir in zucchini and walnuts. Spread batter into the prepared baking pan.
Bake in the preheated oven until a toothpick inserted in the center comes out clean, about 30 minutes. Allow to cool completely before frosting, about 1 hour.
Mix frosting with cloves in a bowl. Spread over the zucchini bars.
Source : All Recipes