I've been using this recipe for years and have always succeeded with it! Frozen or fresh blackberries can be used. Serve with vanilla ice cream.
"Please let us know what you think if you ever try it at home , and don't forget to share it with your friends and family and also on social networks, this means a lot to us"
These are some of the reviews from people who tried the Blackberry Pie Recipe :
Jessica:
An absolutely fabulous pie!!!!!!! I found a mistake in the recipe's list of ingredients. This pie calls for a double pie crust, not a single pie crust.
Jessy :
I loved this pie, although good black berries are key. I made it a lattice top, which was absolutely beautiful. I found it needed to be cooked for the full 25 min. with the lattice top. Also, if you add raspberry (which was also yummy) increase the amount of sugar and four so it isn't runny.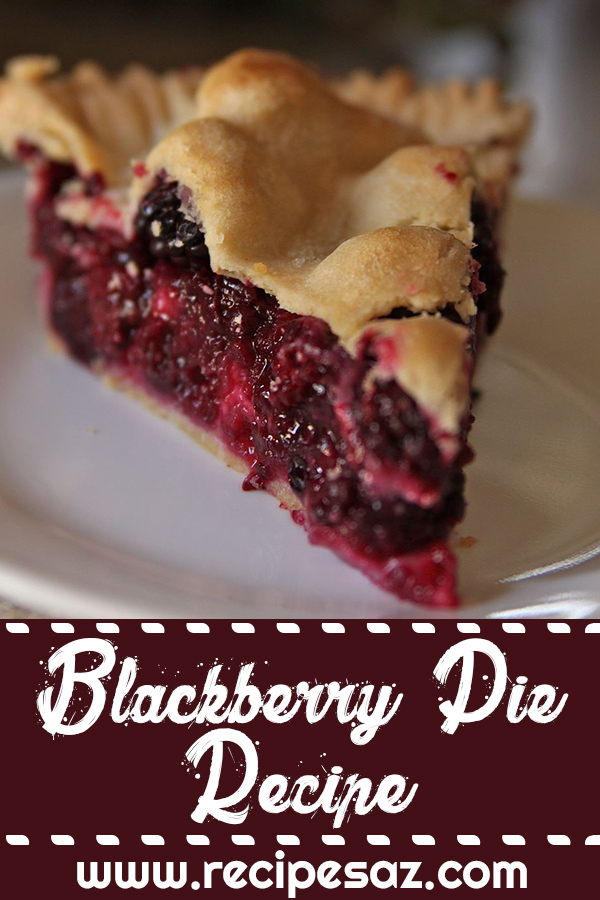 Ingredients
4 cups fresh blackberries
1/2 cup white sugar
1/2 cup all-purpose flour
1 recipe pastry for a 9 inch double crust pie
2 tablespoons milk
1/4 cup white sugar
Directions
Preheat oven to 425 degrees F (220 degrees C).
Combine 3 1/2 cups berries with the sugar and flour. Spoon the mixture into an unbaked pie shell. Spread the remaining 1/2 cup berries on top of the sweetened berries, and cover with the top crust. Seal and crimp the edges, and cut vents in the top crust for steam to escape.
Brush the top crust with milk, and sprinkle with 1/4 cup sugar.
Bake in the preheated oven for 15 minutes. Reduce the temperature of the oven to 375 degrees F (190 degrees C), and bake for an additional 20 to 25 minutes, or until the filling is bubbly and the crust is golden brown. Cool on wire rack.
Source : All Recipes