These salty caramel chocolate bars are chewy and have layer upon layer of caramel and chocolate goodness on top of a soft oatmeal cookie crust.
Ingredients
Crust
3/4 cup unsalted butter, room temperature
3/4 cup packed brown sugar
1 egg
1 1/2 cups all-purpose flour
1 cup old-fashioned rolled oats
Filling
1 (one) 14 oz package caramels, unwrapped
1/3 cup heavy cream
Topping
1 cup salted dry roasted peanuts
1 cup semi-sweet chocolate chunks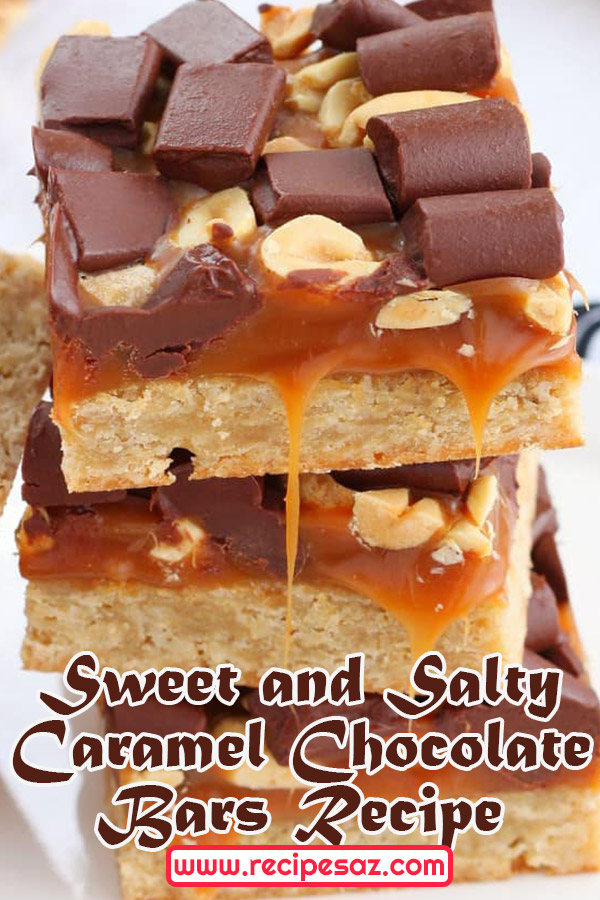 Instructions
Heat the oven to 350F. Line an 11X7″ baking pan with parchment paper leaving about 1 inch of paper hanging on the sides. Set aside.
In the mixing bowl of a mixer add the butter and sugar. With the paddle attachment on, beat on low speed until light and fluffy.
Add egg and beat few more seconds until combined.
Stir in the flour and oats. Beat until there's no more dry flour. The mixture will be a little crumbly. To not worry.
With your fingers, press the mixture on the bottom of the prepared baking pan.
Bake in the preheated oven for 23-25 minutes or until light golden brown.
Meanwhile, in a medium saucepan, combine the unwrapped caramels and the heavy cream. Cook over low heat, stirring constantly, until the mixture is smooth.
Pour the caramel mixture over the partially baked crust.
Top with the peanuts and chocolate chunks and return to the oven for an additional 12-14 minutes until the chocolate is softened and caramel begins to bubble around the edges.
Remove the pan from the oven and cool on a wire rack for about 1 1/2 hours before cutting into bars.