Pan fried chicken cubes served with a sweet and sour sauce.
"Please let us know what you think if you ever try it at home , and don't forget to share it with your friends and family and also on social networks, this means a lot to us"
These are some of the reviews from people who tried the Sweet and Sour Chicken Recipe :
Deborah :
My husband loved it! As did another review advised, I added the bell pepper and pineapple to the sauce. Great flavor and the peppers are soft,not crunchy.Prep was a bit messy, but well worth the clean up time.
Catherin :
I absolutely love this recipe. I serve it with chow mein noodles and eggrolls. My family is crazy about it. I've also used the batter for onion rings.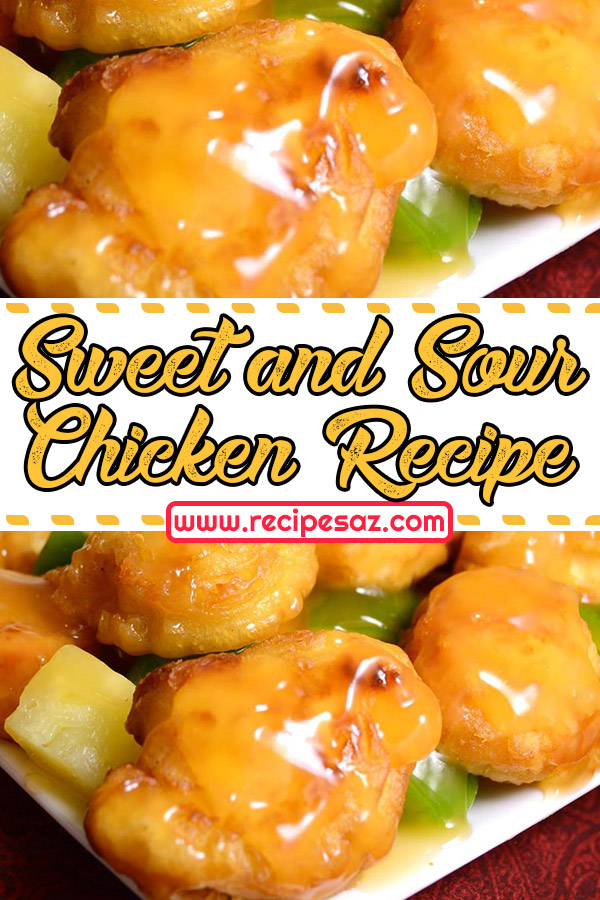 Ingredients
1 (8 ounce) can pineapple chunks, drained (juice reserved)
1/4 cup cornstarch
1 3/4 cups water, divided
3/4 cup white sugar
1/2 cup distilled white vinegar
2 drops orange food color
8 skinless, boneless chicken breast halves – cut into 1 inch cubes
2 1/4 cups self-rising flour
2 tablespoons vegetable oil
2 tablespoons cornstarch
1/2 teaspoon salt
1/4 teaspoon ground white pepper
1 egg
1 1/2 cups water
1 quart vegetable oil for frying
2 green bell pepper, cut into 1 inch pieces
Directions
In a saucepan, combine 1 1/2 cups water, sugar, vinegar, reserved pineapple juice, and orange food coloring. Heat to boiling. Turn off heat. Combine 1/4 cup cornstarch and 1/4 cup water; slowly stir into saucepan. Continue stirring until mixture thickens.
Combine flour, 2 tablespoons oil, 2 tablespoons cornstarch, salt, white pepper, and egg. Add 1 1/2 cups water gradually to make a thick batter. Stir to blend thoroughly. Add chicken pieces, and stir until chicken is well coated.
Heat oil in skillet or wok to 360 degrees F (180 degrees C). Fry chicken pieces in hot oil 10 minutes, or until golden. Remove chicken, and drain on paper towels.
When ready to serve, layer green peppers, pineapple chunks, and cooked chicken pieces on a platter. Pour hot sweet and sour sauce over top.
Source : All Recipes