Chorizo breakfast tacos with potato hash and eggs are ridiculously flavorful, quick, and easy. The perfect meal any time of day!
Use the Right Arrow to go to the next page that has the Ingredients and Directions
"Please let us know what you think if you ever try it at home , and don't forget to share it with your friends and family and also on social networks, this means a lot to us"
These are some of the reviews from people who tried this Chorizo Breakfast Tacos with Potato Hash and Eggs Recipe :
Barbara :
Delicious and very simple to make! I nuked the potatoes for 4.5 minutes in the microwave to speed everything up, and the meal was on the table in less than 1/2 an hour. I used soy chorizo, as it's the only type my grocer had, and added a bit more olive oil for cooking because of that – and it worked perfectly. Husband said he's having the leftovers for lunch! I will definitely make this one again.
Taylor :
Easy and delicious, my hubby thoroughly enjoyed it. I made tacos and breakfast burritos. Only thing I added was avocado slices and Tapatio sauce. Thanks for sharing!
Use the Right Arrow to go to the next page that has the Ingredients and Directions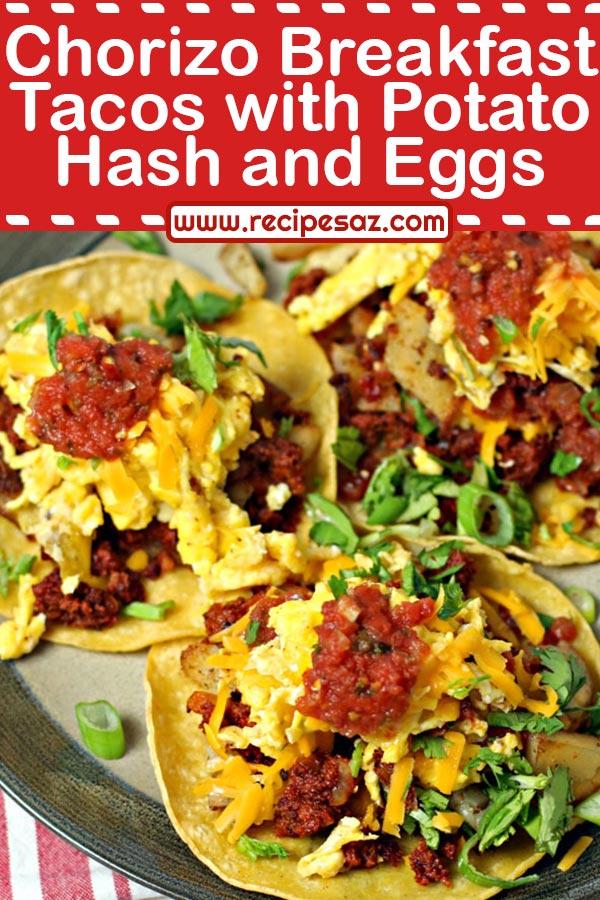 Ingredients :
2 tablespoons vegetable oil
2 baked potatoes, peeled and cubed
1/2 cup chopped onion
1/2 teaspoon garlic powder
1/2 teaspoon onion powder
salt and freshly ground black pepper
7 ounces chorizo sausage, removed from casings
5 eggs
1 tablespoon milk
3 tablespoons finely chopped fresh cilantro, divided
6 small corn tortillas, warmed
1/2 cup shredded Cheddar cheese
6 tablespoons salsa
Directions :
Heat oil in a nonstick skillet over medium-high heat until shimmering. Add potatoes, onion, garlic powder, and onion powder to one side of the skillet and season with salt and pepper. Add chorizo sausage on the other side of the skillet and saute, breaking up with the back of a spoon, until browned, about 5 minutes. Turn over the potatoes after a couple of minutes so they get brown on both sides.
Combine eggs, milk, 1 tablespoon cilantro, salt, and pepper in a bowl. Reduce heat and pour egg mixture into the skillet. Stir eggs until they are very softly set, about 3 minutes. Remove from heat.
Spread out warmed tortillas and divide potato, chorizo, and egg mixture among them. Sprinkle with remaining 2 tablespoons cilantro. Top with Cheddar cheese and salsa.
Source : All Recipes