This simple spinach & tomato breakfast casserole is filled with eggs, tomatoes, spinach, and cheese for a comforting breakfast you'll want to make again and again!
This recipe for Easy Breakfast Casserole has green chilies in it though and my kids aren't the biggest fans of these although my hubby and I are. My kids do love a BLT Quiche that we make often, so inspired by that I just this simple & better for you breakfast casserole. It takes less than 10 minutes to throw together, then just put it in the oven to bake and viola breakfast is right around the corner. Of course, you could add bacon too – yum! I would put in a half a pound cooked and chopped, but if you love bacon go for the whole pound.
"Please let us know what you think if you ever try it at home , and don't forget to share it with your friends and family and also on social networks, this means a lot to us"
Use the Right Arrow to go to the next page that has the Ingredients and Directions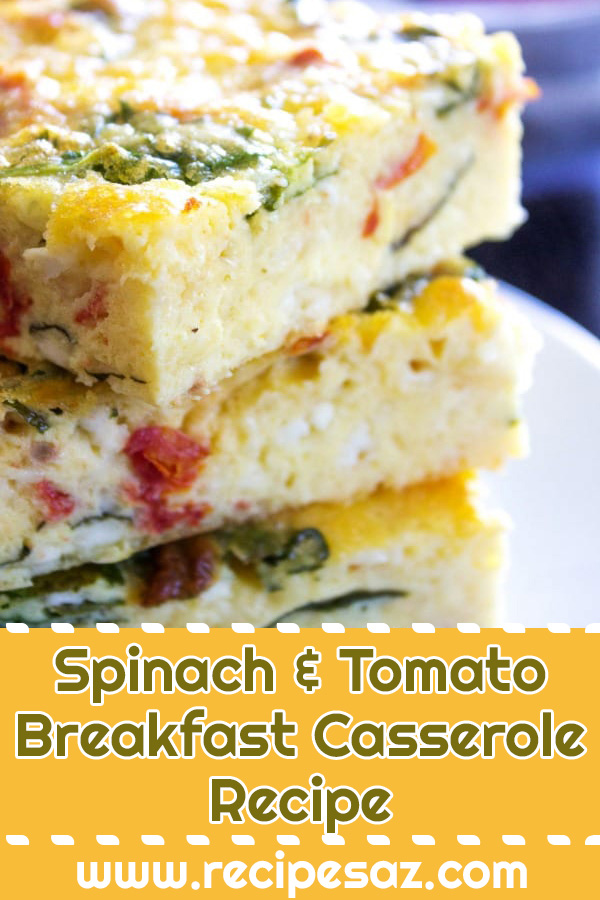 Ingredients :
12 eggs whisked
1 stick of butter or margarine melted
½ cup flour
1 cup freshly chopped spinach
1/2 cup roasted tomatoes chopped
16 ounces cottage cheese small curd 1-2%
1 1/2 cups shredded mozzarella cheese
1/4 teaspoon salt
Optional toppings to serve on top: freshly sliced avocados salsa, cheese, sour cream and/or chives.
Directions :
Pre-heat oven to 400 degrees.
Prepare 9×13 baking pan, by greasing all sides and bottom of the pan; set aside.
In a medium mixing bowl, whisk eggs, add melted butter, flour, tomatoes, spinach, cottage cheese, mozzarella cheese, and salt. Stir until well combined,
Pour into prepared pan. Bake at 400 degrees for 15 minutes, then reduce oven temperature to 350 and bake for another 30-35 minutes. Remove from oven and cool for 5-minutes. Cut, serve and enjoy!
Top with additional toppings if desired.
Source : Real House Moms