These pumpkin cheesecake bars are delicious and perfect for the fall holidays. They taste best when chilled in the refrigerator overnight!
Ingredients
Crust:
1 1/2 cups all-purpose flour
1/2 cup butter, softened
1/4 cup white sugar
Cheesecake Layer:
8 ounces cream cheese
1/4 cup white sugar
1 egg
1/2 teaspoon vanilla extract
Pumpkin Layer:
1 (15 ounce) can pumpkin puree
1 (12 ounce) can evaporated milk
3/4 cup white sugar
2 eggs
3/4 teaspoon ground cinnamon
1/2 teaspoon salt
1/2 teaspoon ground ginger
1/4 teaspoon ground cloves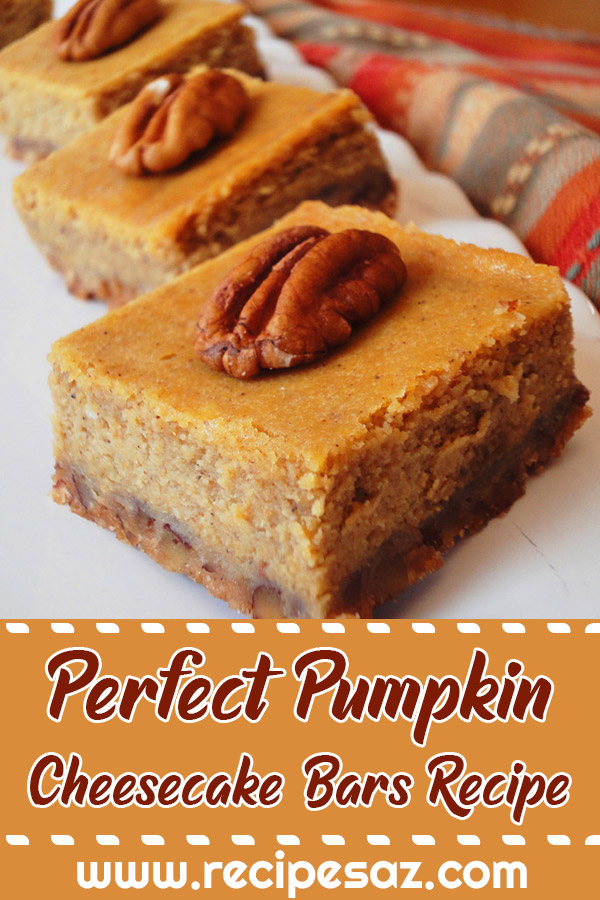 Directions
Preheat oven to 425 degrees F (220 degrees C).
Stir flour, butter, and 1/4 cup sugar together in a bowl until dough is well-blended. Pat dough into the bottom of a 9×13-inch baking dish.
Bake in the preheated oven until crust is lightly golden, 10 to 15 minutes. Cool. Reduce oven temperature to 350 degrees F (175 degrees C).
Beat cream cheese, 1/4 cup sugar, 1 egg, and vanilla together in a bowl with an electric mixer until smooth.
Whisk pumpkin puree, evaporated milk, 3/4 cup sugar, 2 eggs, cinnamon, salt, ginger, and cloves together in a bowl.
Spread cream cheese mixture evenly over cooled crust. Pour pumpkin mixture over cream cheese mixture.
Bake in the preheated oven until bars are set, about 60 minutes. Cool to room temperature, then refrigerate overnight.