Old-Fashioned Potato Candy is not only a delicious holiday candy to eat, it's super fun and easy to make. It's also no-bake. What's not to love?
Easy old fashioned potato candy (no bake) is such a delicious and addictive treat – perfect for peanut butter lovers and neighbor gifts!
Since this Mashed Potato Candy recipe is an unique and unusual recipe, I thought everyone would enjoy seeing it and perhaps making them. This is also a great recipe to use up extra mashed potatoes.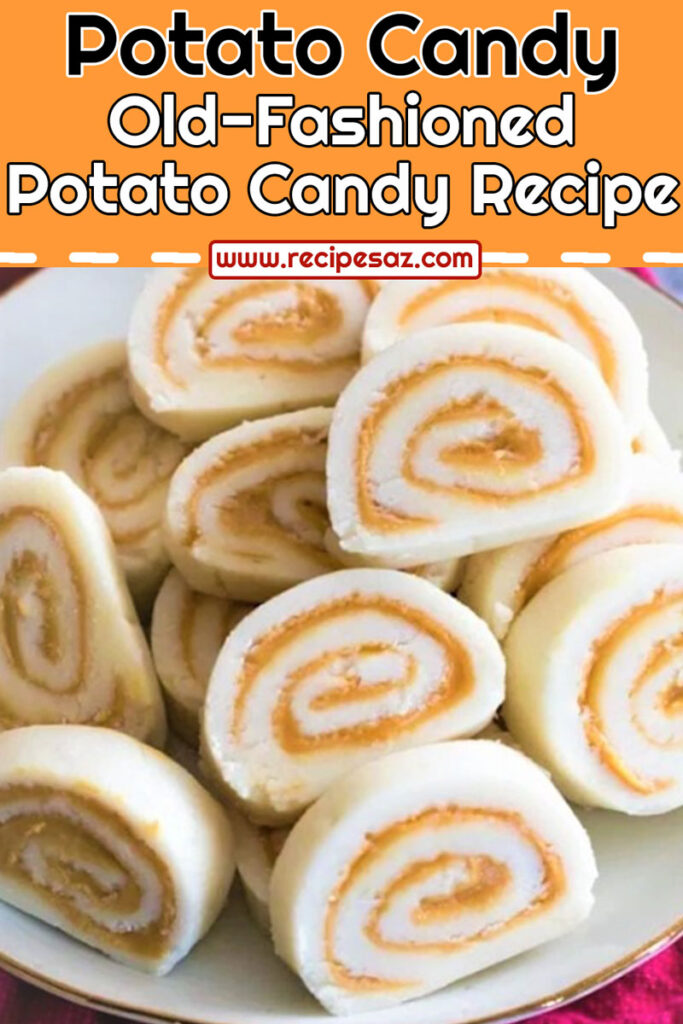 INGREDIENTS:
6 cups powdered sugar, plus more if needed
1/2 cup russet potato, mashed and cooled (about 1 large potato)
1/3 cup creamy peanut butter
1 tablespoon milk
1 teaspoon vanilla extract
1/8 teaspoon salt
PREPARATION:
In a large bowl, beat mashed potato, milk, vanilla, and salt with an electric mixer on medium speed for 2 minutes.
Mix in powdered sugar, 1 cup at a time, until a dough has formed.
Once you've added in 6 cups, if you need more, add in 1 tablespoon increments.
Dough should be thick, slightly thicker than cookie dough.
Form dough into a ball and dust with powdered sugar.
On a sheet of wax or parchment paper, roll dough into 1/8-inch thick rectangle.
Trim to 10×12-inches.
Generously sprinkle powdered sugar over top of dough and place another piece of parchment paper over it.
Invert the rectangle of dough and discard the paper that is now on top (the one you used to roll out the dough).
Spread peanut butter evenly over dough.
Roll dough tightly long-side to long-side using parchment paper to guide it, jelly-roll style.
Wrap in parchment and freeze for 1 hour.
Cut into 1/4-inch thick slices and serve.
(Leftover candy should be stored in an airtight container in the refrigerator).