This is really easy and so very, very good. I like to add a dollop of vanilla yogurt on top of my piece of coffee cake. Yummy! While some recipes call for peeling apples, leaving the peel on bumps up its nutritional value and adds a rustic texture.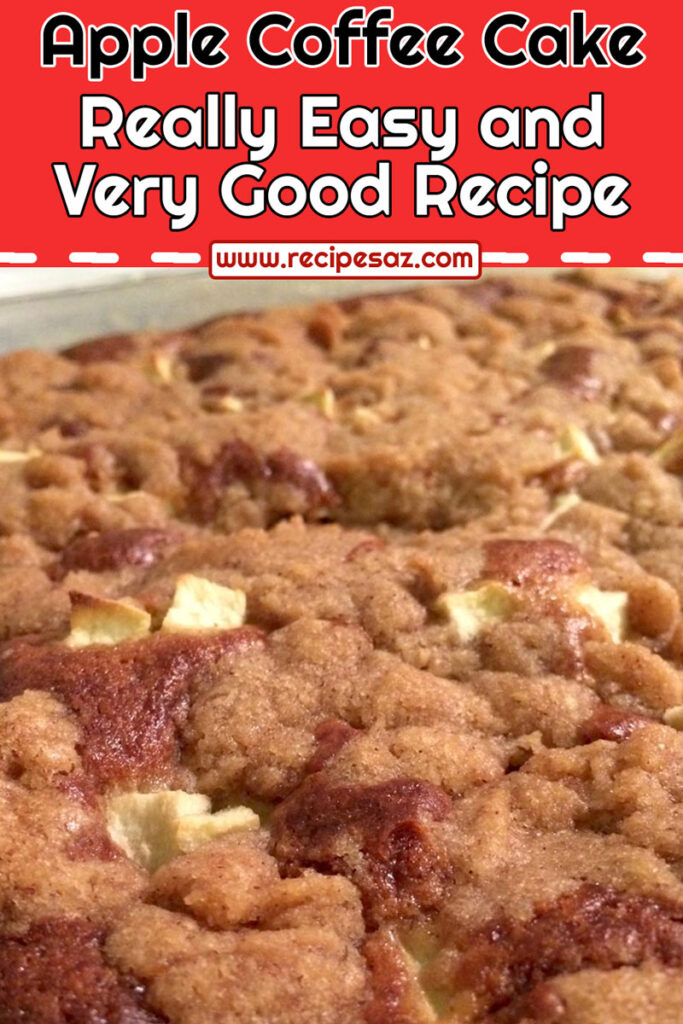 Ingredients :
cooking spray
1 tablespoon flour, or as needed
Cake:
¼ cup butter, softened
¾ cup brown sugar
1 large egg
¼ cup sour cream
¼ cup vanilla yogurt
1 teaspoon vanilla extract
1 cup all-purpose flour
¾ teaspoon ground cinnamon
½ teaspoon baking soda
¼ teaspoon salt
2 cups diced Granny Smith apple
Topping:
¼ cup brown sugar
¼ cup all-purpose flour
2 tablespoons butter
½ teaspoon ground cinnamon
Directions :
Preheat oven to 350 degrees F (175 degrees C). Spray an 8-inch square baking dish with cooking spray; dust with 1 tablespoon flour.
Beat 1/4 cup butter and 3/4 cup brown sugar together with an electric mixer in a large bowl until light and fluffy. The mixture should be noticeably lighter in color. Beat egg into butter mixture. Add sour cream, vanilla yogurt, and vanilla extract to the mixture; beat to integrate.
Stir 1 cup flour, 3/4 teaspoon cinnamon, baking soda, and salt together in a bowl; add to the butter mixture and beat to combine into a batter. Fold apples into the batter. Pour batter into prepared baking dish.
Mix 1/4 cup brown sugar, 1/4 cup flour, 2 tablespoons butter, and 1/2 teaspoon cinnamon together in a bowl using a fork to achieve a crumbly consistency; sprinkle over the top of the batter.
Bake in the preheated oven until a toothpick inserted into the center comes out clean, 35 to 40 minutes. Cool in the pan for 10 minutes before removing to cool completely on a wire rack.