After reading numerous recipes and reviews, I settled on this one for my 1st ever stew. Yumm! I added a packaged of onion soup mix to the flour to coat the meat, would add onions at the same time as the meat next time so they cook more. Added 2 carrots in the beginning and no extra carrots or onions at the end. Added 1 cup red wine (mmmm) for 4 total cups of liquid with the beef broth. Also used 5 red potatoes total and added them at the same time as the liquid so they would cook all the way through. I served over egg noodles for a one-dish meal. Was about 90 min total cooking time and so worth it.
This recipe has been included in book#246531. This has the hearty, old-fashioned taste that I've been looking for. The meat cooked up so tender, and the gravy was really delicious! I added a few fresh mushrooms and 1/4 cup of barley I had on hand. The whole family loved it and it is a perfect dinner for a cold evening! Thanks for posting this terrific recipe!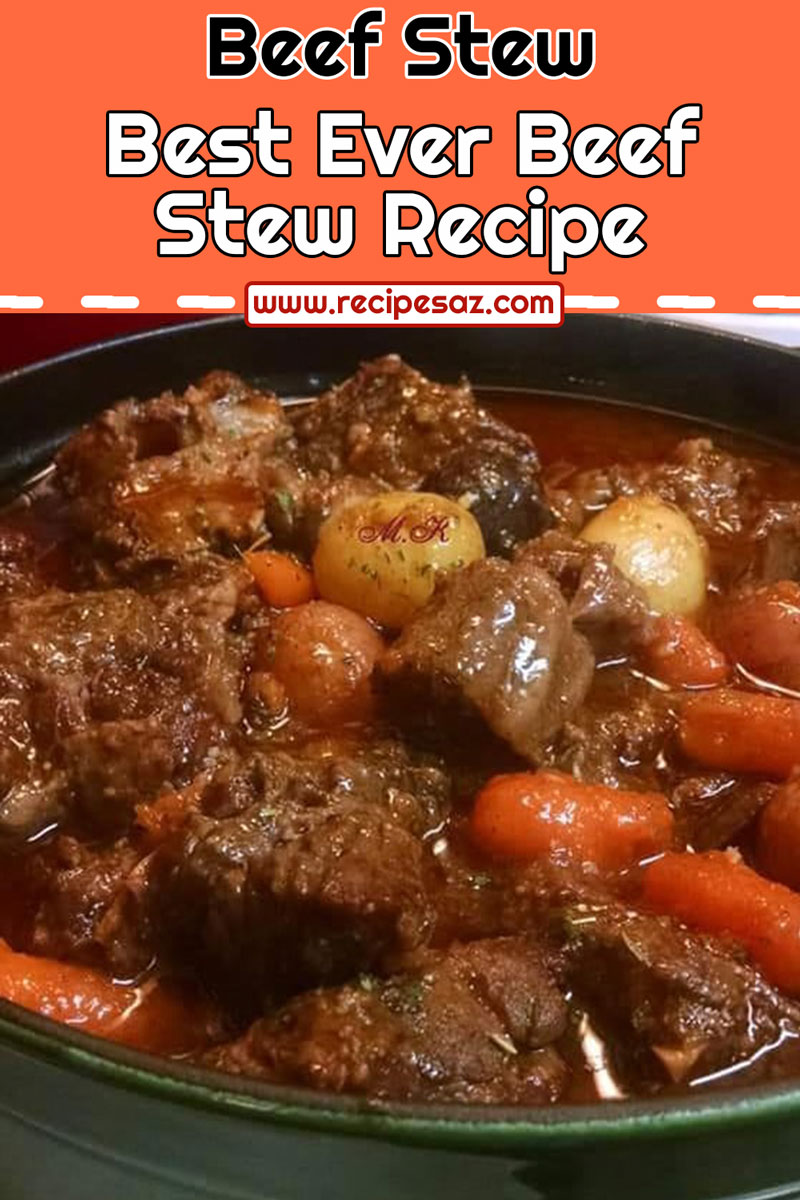 Ingredients :
2 pounds beef stew meat
½ cup all purpose flour
1 tablespoon seasoning salt
2 tablespoons olive oil
½ teaspoon black pepper
1 large onion, diced
2 bay leaves
¼ cup Worcestershire sauce
2 cups water
2 heaping teaspoons beef demi-glace (or beef Swanson Flavor Boost)
4 medium to large red skinned potatoes, washed & diced
3 large carrots, peeled & sliced
1 stalk celery, diced
Directions :
Shake the beef stew meat in a resealable plastic bag with the flour & seasoning salt until evenly coated. Heat the olive oil in a skillet; add the floured stew meat to the pan & brown on all sides. Remove using a slotted spoon or tongs & place into the bottom of a slow cooker. Season with pepper.
Saute the diced onion in the same hot skillet for 2 minutes. Don't worry about cleaning it out in between – that's added flavor! Transfer the onions into the slow cooker as well. Pour the Worcestershire sauce, water, & beef demi glace (or Swanson Flavor Boost) into the skillet and whisk until mixed, making sure you scrape up any browned bits in the bottom of the pan. Turn off the heat & set aside.
Add the diced potatoes, carrots, celery, & bay leaves to the slowcooker. Now, pour the broth/Worcestershire mixture in the crockpot as well. Cover; cook on low for 8 hours. Remove the bay leaves before serving.