A fresh, colorful grilled corn salad that tastes wonderful and is very healthy. It's the perfect side dish for a barbecue or Mexican dinner.
"Please let us know what you think if you ever try it at home , and don't forget to share it with your friends and family and also on social networks, this means a lot to us"
These are some of the reviews from people who tried The Kate's Grilled Corn Salad Recipe :
Martin :
It was easy and really good with a package of roasted sweet corn.
Meredith :
I made this recipe to try and it was the best salad I've ever had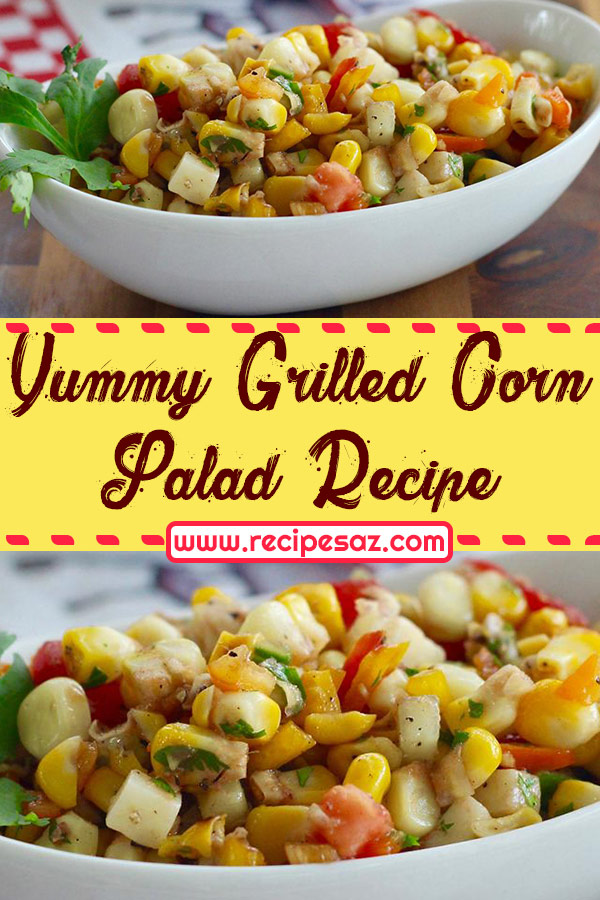 Ingredients
6 ears corn
1 tomato, finely chopped
5 ounces Monterey Jack cheese, cut into small cubes
1 orange bell pepper, finely chopped
1/2 cucumber, finely chopped
2 tablespoons finely chopped cilantro
1 tablespoon balsamic vinegar
1 1/2 teaspoons coarse sea salt
freshly cracked black pepper to taste
1 pinch garlic powder, or to taste (optional)
Directions
Preheat grill for medium heat and lightly oil the grate.
Bring a large pot of water to a boil. Add corn; cook until tender, about 6 minutes. Drain.
Cook corn on the preheated grill until lightly golden, about 5 minutes. Cool until easily handled, 5 to 10 minutes.
Cut corn kernels off the cob with a sharp knife. Transfer to a large bowl; add tomato, Monterey Jack cheese, orange bell pepper, cucumber, and cilantro. Stir in balsamic vinegar, sea salt, pepper, and garlic powder; mix to combine.
Source : All Recipes