If you asked me for a refreshing summer dish that combines flavors from the grill with the Tex-Mex flavors we know and love, this Southwest Salad would be my number one answer.
Southwest Salad is a deliciously vibrant salad packed with our favorite flavors for an amazing meal!
Perfectly seasoned grilled chicken, corn, avocado, beans, and romaine lettuce are all tossed together in a lime vinaigrette.
I hope to help inspire you guys to create some delicious meals this summer and this Southwest salad is one that the whole family will love!
"Please let us know what you think if you ever try it at home , and don't forget to share it with your friends and family and also on social networks, this means a lot to us"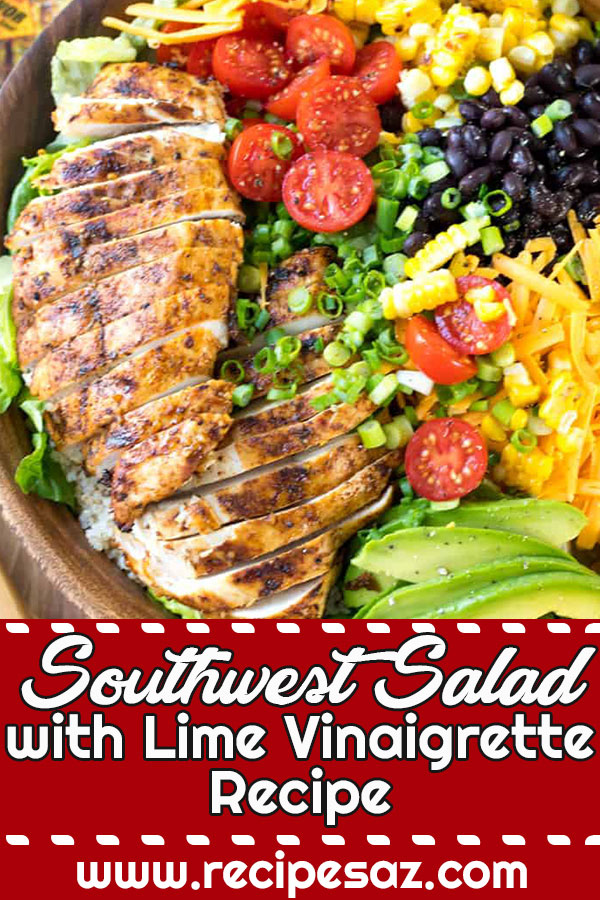 INGREDIENTS
3 boneless skinless chicken breasts
2 tablespoons olive oil
3 tablespoons McCormick® Grill Mates® Applewood Rub
1/2 cup black beans drained and rinsed
1 corn on the cob
1 avocado sliced
1 cup cheddar cheese grated
1 cup cooked quinoa
1 head romaine lettuce
1 cup cherry tomatoes halved
4 green onions sliced
DRESSING
1/4 cup olive oil
3 tablespoons fresh lime juice about 1 lime
1 tablespoon apple cider vinegar
1 1/2 teaspoons sugar
1 tablespoon McCormick® Grill Mates® Mesquite Marinade
How to grill chicken :
I used to be pretty nervous around a grill, but realizing how much flavor you can get out of your meat from grilling it really inspired me to learn to use it well! Here are a few of my favorite tips.
Make your chicken even. With a boneless chicken breast, you'll notice that one end is much thicker than the other.  I use a meat mallet to gently pound all of the chicken breasts to an even thickness to allow for even cooking.
Season your chicken before grilling.  A dash of olive oil and a deliciously flavorful rub (I used McCormick® Grill Mates® Applewood Rub) means you'll get loads of flavor.
Use a thermometer. I always use a thermometer to make sure my chicken is perfectly cooked, tender and juicy.  You'll want to cook your chicken to 165 degrees (I usually take it off just before as the temperature will continue to rise a few degrees while it rests).
Rest your chicken. Resting your chicken breasts for about 5-10 minutes to allow the juices to settle before you slice it up. This will help keep your chicken tender and delicious!
INSTRUCTIONS
Prepare dressing by whisking all ingredients in a small bowl until combined.  Set aside.
Preheat grill to medium-high heat. Pound chicken breasts to even thickness. Drizzle with olive oil. Brush corn with olive oil & season with salt.
Place chicken on the grill and corn on the grill.  Grill 3-4 minutes per side or until temperature reaches 165 degrees.
Allow chicken to rest 5 minutes before slicing. Using a knife, remove kernels from the corn. Slice chicken.
Combine all salad ingredients in a large salad bowl.  Toss with dressing and serve.
Source : spendwithpennies.com