My family requests this Golden Rum cake recipe from me at all our get-togethers. The butter rum glaze makes it special. An easy way to glaze your cake is to pour half of the glaze into Bundt pan, reinsert cake, then pour the rest of glaze over the bottom of the cake. Let absorb well then invert back onto platter.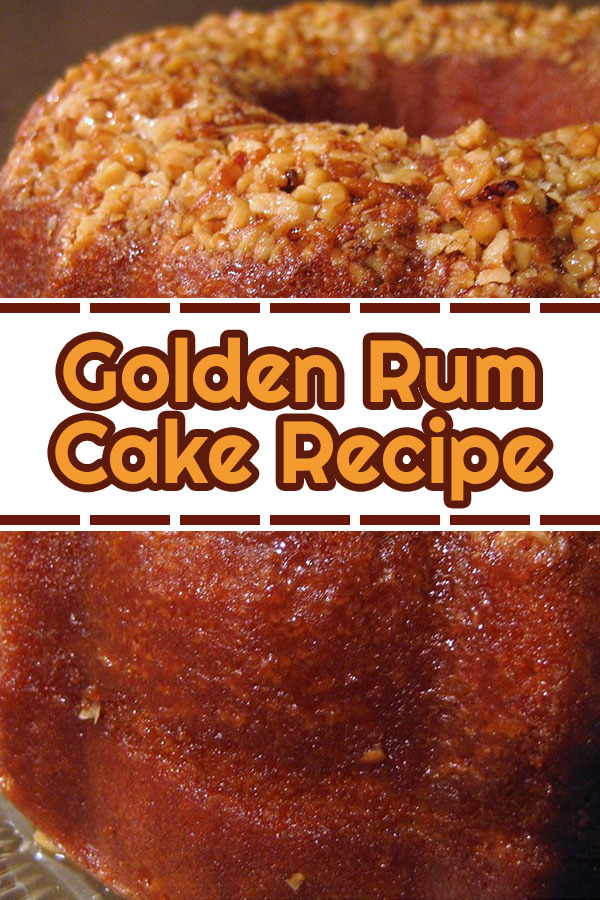 Ingredients :
1 cup chopped walnuts
1 (18.25 ounce) package yellow cake mix
1 (3.4 ounce) package instant vanilla pudding mix
4 eggs
1/2 cup water
1/2 cup vegetable oil
1/2 cup dark rum
1/2 cup butter
1/4 cup water
1 cup white sugar
1/2 cup dark rum
Directions :
Prep : 30 m
Cook : 1 h
Ready In : 1 h 30 m
Preheat oven to 325 degrees F (165 degrees C). Grease and flour a 10 inch Bundt pan. Sprinkle chopped nuts evenly over the bottom of the pan.
In a large bowl, combine cake mix and pudding mix. Mix in the eggs, 1/2 cup water, oil and 1/2 cup rum. Blend well. Pour batter over chopped nuts in the pan.
Bake in the preheated oven for 60 minutes, or until a toothpick inserted into the cake comes out clean. Let sit for 10 minutes in the pan, then turn out onto serving plate. Brush glaze over top and sides. Allow cake to absorb glaze and repeat until all glaze is used.
To make the glaze: in a saucepan, combine butter, 1/4 cup water and 1 cup sugar. Bring to a boil over medium heat and continue to boil for 5 minutes, stirring constantly. Remove from heat and stir in 1/2 cup rum.
If you liked this Golden Rum cake recipe please support us by sharing it with your friends and family !!
Source : All recipes